Andronix & Termux – Running Linux on Your Android Phone and Tablet without the need to Root Your Devices

GSConnect – Kde Connect for Gnome in a form of an Extension. Connect Your Android Phone to Your Linux Desktop
Scrcpy to view and interact with Your Android Phone via USB and also Wirelessly on Linux
BalenaFIN and BalenaSOUND
Brave Browser – Chromium Based Browser with Built in Adblocker and Tracking Blocker .. Uses less memory than Chrome 🙂
Calling to Arms – FreeBSD Users Unite – Trying to Revive the BSD User Group in Spain
Google Play Store Download Links:
https://play.google.com/store/apps/details?id=studio.com.techriz.andronix
https://play.google.com/store/apps/details?id=com.termux
Websites:
GSConnect
https://extensions.gnome.org/extension/1319/gsconnect/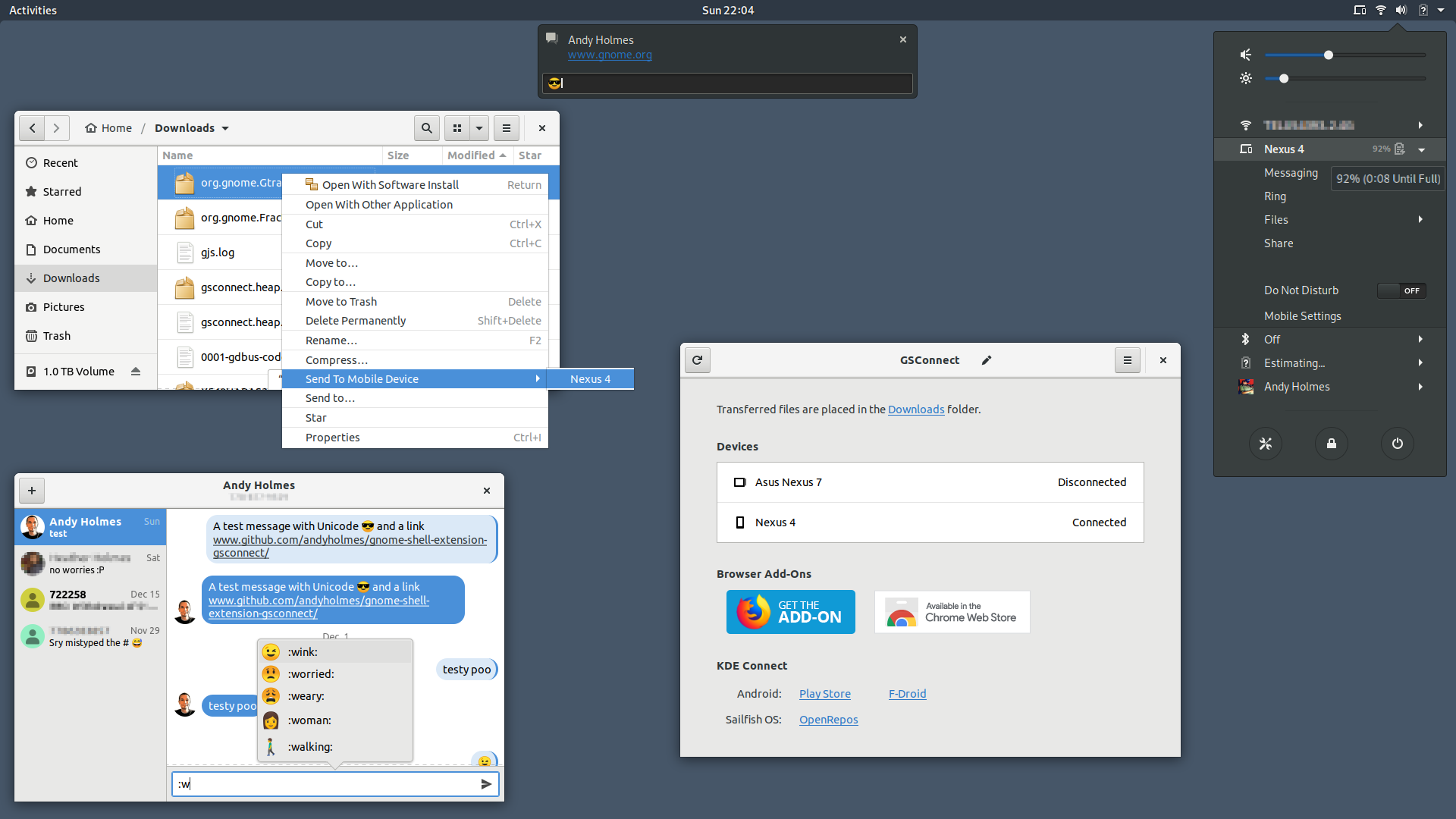 BalenaFin and BalenaSound
What is Balena?
Balena is a complete set of tools for building, deploying, and managing fleets of connected Linux devices. We provide infrastructure for fleet owners so they can focus on developing their applications and growing their fleets with as little friction as possible.
Their Final thoughts from their website:

Balena has been built to bring a cloud microservices workflow to the world of edge devices and remove friction for fleet owners wherever possible. Our aim is to make IoT applications as easy to deploy as web applications (or even easier!). Along the way, we've discovered and assimilated interesting ideas from both the cloud and embedded worlds, and even invented ideas that only apply to the new paradigm balena represents.
https://www.balena.io/what-is-balena/
BalenaFin
The balenaFin is a Raspberry Pi Compute Module carrier board that can run all the software that the Raspberry Pi can run, but hardened for deployment in the field. Even better, it's offered at an accessible price point relative to other professional boards.
BalenaSound
Bluetooth, Airplay and Spotify audio streaming for any audio device
Starter project enabling you to add multi-room audio streaming via Bluetooth, Airplay or Spotify Connect to any old speakers or Hi-Fi using just a Raspberry Pi.
BalenaSound is a set of docker containers running on top of BalenaOS which is the OS to run Docker Containers on Embeeded devices with ease.
Features
Bluetooth, Airplay and Spotify Connect support: Stream audio from your favourite music services or directly from your smartphone/computer using bluetooth.
Multi-room synchronous playing: Play perfectly synchronized audio on multiple devices all over your place.
Hardware required
Raspberry Pi 3A+/3B/3B+/4B/Zero W
SD Card (we recommend 8GB Sandisk Extreme Pro)
Power supply
3.5mm audio cable to the input on your speakers/Hi-Fi (usually 3.5mm or RCA). Alternatively you can use the HDMI port to get digital audio out.
ScrCpy
Show/Connect and Interact with Your Android Device on Linux via USB and Wireless
https://github.com/Genymobile/scrcpy/blob/master/README.md
Brave Browser
Calling to Arms – FreeBSD User Group Spain to be revived
Promo
Contact Details
Telegram Chat Group
https://t.me/tsrpodcast
Episodes in FLAC
https://tsr-podcast.viktormadarasz.com/flac-remastered-episodes
Video Recording of the Live Show:
https://video.hardlimit.com/accounts/serverroomshow/video-channels
Email
viktormadarasz@sdf.org
VOIP // PSTN
261414@sanjose2.voip.ms
+1 910 665 9191