What is Google Analytics
Google Analytics is a web analytics service offered by Google that tracks and reports website traffic, currently as a platform inside the Google Marketing Platform brand. Google launched the service in November 2005 after acquiring Urchin.
As of 2019, Google Analytics is the most widely used web analytics service on the web.Google Analytics provides an SDK that allows gathering usage data from iOS and Android app, known as Google Analytics for Mobile Apps.Google Analytics can be blocked by browsers, browser extensions, firewalls and other means.
Google Analytics is used to track website activity such as session duration, pages per session, bounce rate etc. of individuals using the site, along with the information on the source of the traffic. It can be integrated with Google Ads,with which users can create and review online campaigns by tracking landing page quality and conversions (goals). Goals might include sales, lead generation, viewing a specific page, or downloading a particular file.Google Analytics' approach is to show high-level, dashboard-type data for the casual user, and more in-depth data further into the report set. Google Analytics analysis can identify poorly performing pages with techniques such as funnel visualization, where visitors came from (referrers), how long they stayed on the website and their geographical position. It also provides more advanced features, including custom visitor segmentation.Google Analytics e-commerce reporting can track sales activity and performance. The e-commerce reports shows a site's transactions, revenue, and many other commerce-related metrics.
On September 29, 2011, Google Analytics launched Real Time analytics, enabling a user to have insight about visitors currently on the site.A user can have 100 site profiles. Each profile generally corresponds to one website. It is limited to sites which have traffic of fewer than 5 million pageviews per month (roughly 2 pageviews per second) unless the site is linked to a Google Ads campaign. Google Analytics includes Google Website Optimizer, rebranded as Google Analytics Content Experiments.Google Analytics' Cohort analysis helps in understanding the behaviour of component groups of users apart from your user population. It is beneficial to marketers and analysts for successful implementation of a marketing strategy.
Funny fact I remeber in one of the early websites I made back in the late 90s in very simple HTML i used the simple code i found of course which had a typical visitor counter on the bottom of the page which incremented with each refresh…. I must say The world came a long way from a simple counter You cant really base real trends on to a full arsenal of different Analytics tools which can help You make good business decisions regarding Your audience and trends when it comes to Your audience-visitors.


Why We need metrics like that?
It can be said that a successful website is built in equal parts great content and a solid understanding of your audience. While your content may be first-class, if you don't know where your traffic is coming from (and the topics your audience is interested in), you're missing half of the formula.
Google Analytics enables you to find answers to these questions by analyzing your website traffic. That way, you can improve your site based on your visitors' actions.
There are many books out there about Google Analytics and its every bit of feature and i suggest if You are seriously interested You should check some of the books out mentioned in the shownotes.
Open Source alternatives:
Matomo
(Piwik)
Matomo does most of what Google Analytics does, and chances are it offers the features that you need.
Those features include metrics on the number of visitors hitting your site, data on where they come from (both on the web and geographically), the pages from which they leave, and the ability to track search engine referrals. Matomo also offers many reports, and you can customize the dashboard to view the metrics that you want to see.
To make your life easier, Matomo integrates with more than 65 content management, e-commerce, and online forum systems, including WordPress, Magneto, Joomla, and vBulletin, using plugins. For any others, you can simply add a tracking code to a page on your site.
You can test-drive Matomo or use a hosted version.
The best part of it that it is relatively easy to install if You decide to self host it Yourself On-Permises.

It requires MySQL Database or MariaDB for backend , a Webserver like nginx or apache and PHP and for tracking a Javascript based tracking code into Your website/s <header> part/s unless You run web engines like Drupal, WordPress or any of the other 65 content management , e-commerce or forum systems which can do it via plugins instead.

If Your site receives a couple of hundred visitors per day its advised to set up auto-archiving cron task so that Matomo calculates your reports periodically. When the cron is setup and the timeout value increased, Matomo dashboard will load very quickly as the reports will be pre-processed by the core:archive command triggered by cron.
If you do not setup the cron, Matomo will recalculate your statistics every time you visit a Matomo report, which will slow Matomo down and increase the load on your database.
Open Web Analytics
a close second to Matomo in the open source web analytics stakes, it's Open Web Analytics. In fact, it includes key features that either rival Google Analytics or leave it in the dust.
In addition to the usual raft of analytics and reporting functions, Open Web Analytics tracks where on a page, and on what elements, visitors click; provides heat maps that show where on a page visitors interact the most; and even does e-commerce tracking.
Open Web Analytics has a WordPress plugin and can integrate with MediaWiki using a plugin. Or you can add a snippet of JavaScript or PHP code to your web pages to enable tracking.
Before you download the Open Web Analytics package, you can give the demo a try to see it it's right for you.
AWStats
Web server log files provide a rich vein of information about visitors to your site, but tapping into that vein isn't always easy. That's where AWStats comes to the rescue. While it lacks the most modern look and feel, AWStats more than makes up for that with breadth of data it can present.
That information includes the number of unique visitors, how long those visitors stay on the site, the operating system and web browsers they use, the size of a visitor's screen, and the search engines and search terms people use to find your site. AWStats can also tell you the number of times your site is bookmarked, track the pages where visitors enter and exit your sites, and keep a tally of the most popular pages on your site.
These features only scratch the surface of AWStats's capabilities. It also works with FTP and email logs, as well as syslog files. AWStats can gives you a deep insight into what's happening on your website using data that stays under your control.
Countly
Countly bills itself as a "secure web analytics" platform. While I can't vouch for its security, Countly does a solid job of collecting and presenting data about your site and its visitors.
Heavily targeting marketing organizations, Countly tracks data that is important to marketers. That information includes site visitors' transactions, as well as which campaigns and sources led visitors to your site. You can also create metrics that are specific to your business. Countly doesn't forgo basic web analytics; it also keeps track of the number of visitors on your site, where they're from, which pages they visited, and more.
You can use the hosted version of Countly or grab the source code from GitHub and self-host the application. And yes, there are differences between the hosted and self-hosted versions of Countly.
Plausible
Plausible is a newer kid on the open source analytics tools block. It's lean, it's fast, and only collects a small amount of information — that includes numbers of unique visitors and the top pages they visited, the number of page views, the bounce rate, and referrers. Plausible is simple and very focused.
What sets Plausible apart from its competitors is its heavy focus on privacy. The project creators state that the tool doesn't collect or store any information about visitors to your website, which is particularly attractive if privacy is important to you. You can read more about that here.
There's a demo instance that you check out. After that, you can either self-host Plausible or sign up for a paid, hosted account.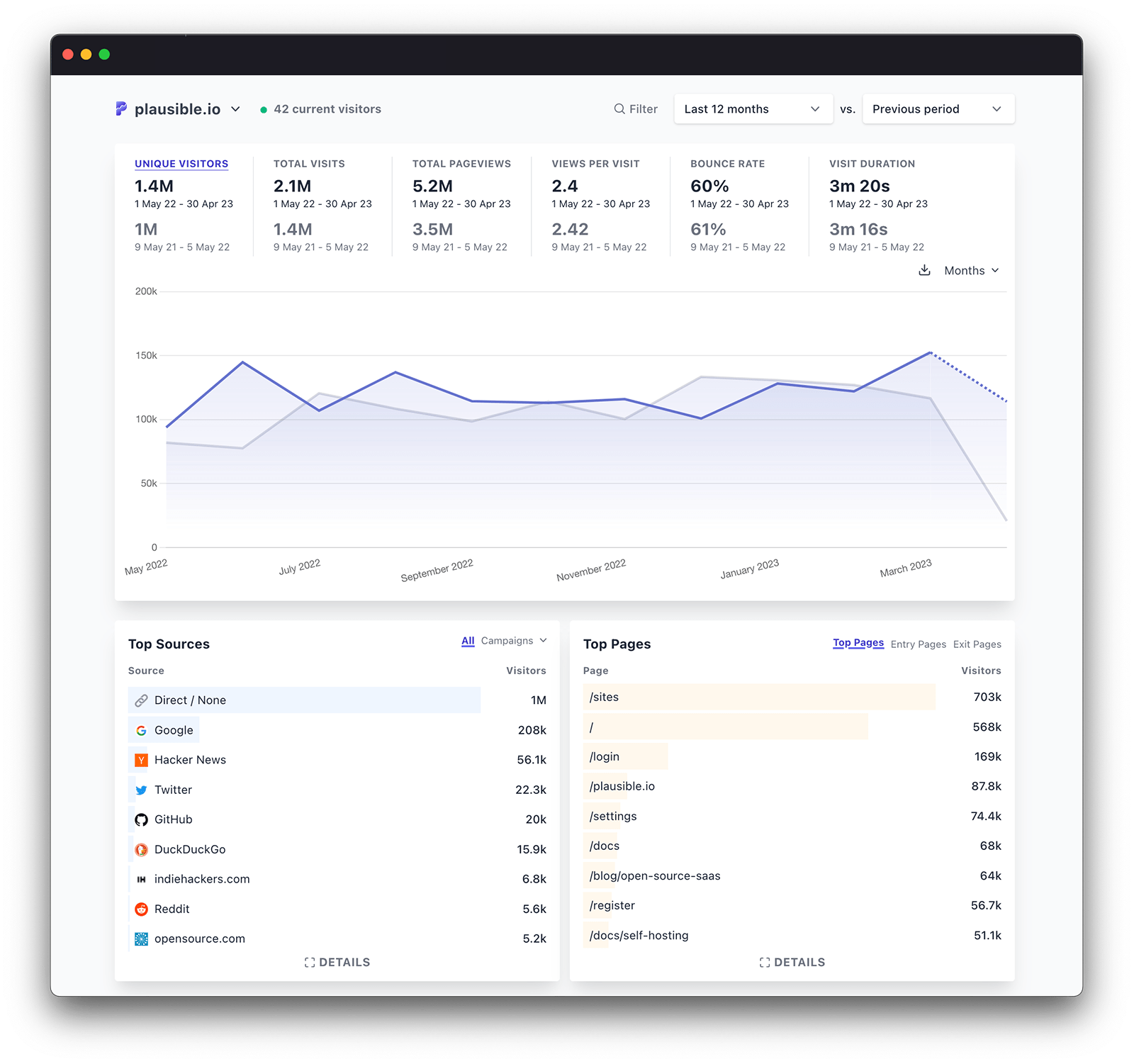 Closed Source alternatives:
Woopra
Cloud based analytics tool with Free tier available (500K actions per month)

An action is any event tracked in Woopra such as pageviews, downloads, property changes and any custom actions you configure. Also, every time a property is changed, for example, a user updated their email address or joins a segment, it will be listed as an action in the customer profile and counted towards your action quota.
As far as I could see it offers no option to self host or on permises installations which only hurts me as the next tier after Free is the one for 999 Euros per month (for 5 Million actions and a lot of Pro features..)
FoxMetrics ( I like the name)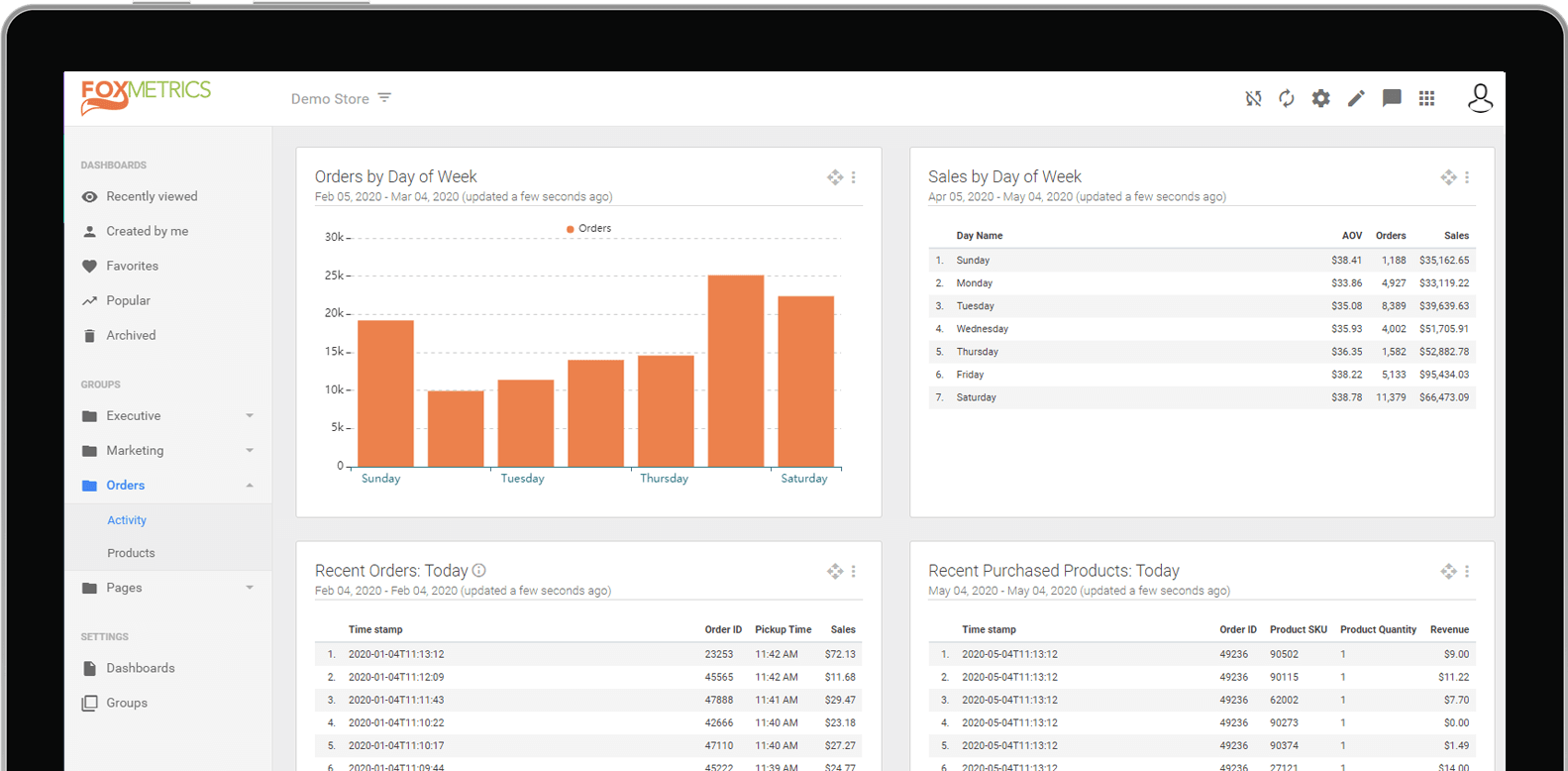 They offer free plans for startups, minority-owned, education, and non-profits.
StatCounter
Available Free tier to analyze the latest 500 page views and affordable tiers to analyze more f.e to analyze the latest 100 000 page views only costs 7 Euros a month.


Clicky
Why look for Alternatives to Google Analytics and Why I look at metrics myself?
it is good to have alternatives.. For Everything in life .. Mostly True..
Different look , more metrics , new or previously untapped data or visually more pleasing dashboards or simply another interpretation of the same pile of information > Another look or a fresh view even on the same can help interpret trends , making the best possible decision when it comes to Your content and audience. Help You see if what You are trying to implement or introduce is well received or perhaps making them frow their eyebrows…
The more and perhaps most versatile view or angles You have on the same can help You be better than Your competitions and stir Your business forward which will make them think You have some 7th sense or a magic crystal ball.
To use my example for me metrics which are important to me are the ones which tell me as much as possible of the visitors to my website. Where they come from, what device they use, how long they stay and which pages they spend time on or which pages they exit from , are their traffic direct perhaps used specific keywords in google to find me , or they come from social channels where i tend to run ads and promote my show ( mastodon, twitter, instagram, pinterest – also paid ads ) and so on.

These metrics collected together with the listening statistics i get from podcast platforms help me to see a couple of things.
As I host my shows and material in english

Do I reach the proper audience and get the most visits / number of reproductions as my goal is mostly to reach native english speaking audience hence I use english instead of for example hungarian or spanish.
Devices used to visit my website ( Desktop or Mobile)
I get most of the traffic from Mobile devices compared to Desktop browsers and Tablets therefore it is important that the website and content is presented properly on this target platform (Mobile phones) which requires constantly to check and make sure its correct and making the experience better each time.
The Source of the Traffic
Direct: Any traffic where the referrer or source is unknown
Email: Traffic from email marketing that has been properly tagged with an email parameter
Organic: Traffic from search engine results that is earned, not paid
Paid search: Traffic from search engine results that is the result of paid advertising via Google AdWords or another paid search platform
Referral: Traffic that occurs when a user finds you through a site other than a major search engine
Social: Traffic from a social network, such as Facebook, LinkedIn, Twitter, or Instagram
Other: If traffic does not fit into another source or has been tagged as "Other" via a URL parameter, it will be bucketed into "Other" traffic
These are just some of the metrics I personally care about. Cause imagine I spend time and effort and money ( pinterest ads and even instagram) to promote the show all in english and my metrics would show me Im most popular in non english speaking countries and most of my traffic is organic coming from search engine results .

it would mean I spend money on promoting my site in social platforms and bringing content in english when perhaps I should either promote elsewhere or look into the reason of why I am successful where my stats say I am or the opposite what makes me not being popular where I want to be.
Links
https://www.searchenginejournal.com/google-analytics-alternatives/347638/
https://opensource.com/article/18/1/top-5-open-source-analytics-tools
https://bookauthority.org/books/new-google-analytics-ebooks
https://www.capterra.com/sem-compare/web-analytics-software?gclid=EAIaIQobChMI_dX54uC07AIVV_lRCh1zHwz0EAAYAiAAEgJFcPD_BwE
https://www.smartbugmedia.com/blog/what-is-the-difference-between-direct-and-organic-search-traffic-sources